You want to cancel your membership, because you have multiple subscriptions running, or out of other reasons?
If the subscription that you want to cancel was done directly in the Google PlayStore or Apple AppStore (depending on the device you are using), you must also cancel it there. Unfortunately, we cannot do this for you.


What happens to my data after my cancellation of the subscription?
All your data, such as entries, areas & area boundaries, pins on the map remain stored and are not deleted.
Some data such as paths, Pro Pins & zones will be invisible to you without a subscription, but remain visible in the area for all other Pro users. These are then marked on the map with a Pro symbol so that you have a clue where they are. If you want to change them, you would have to subscribe again.
Apple App Store:
In the home screen, click on the profile in the upper right corner. There scroll down and click on Manage subscriptions. There, click on the active Hunting Guide subscription. Now scroll down here and click on Cancel Subscription.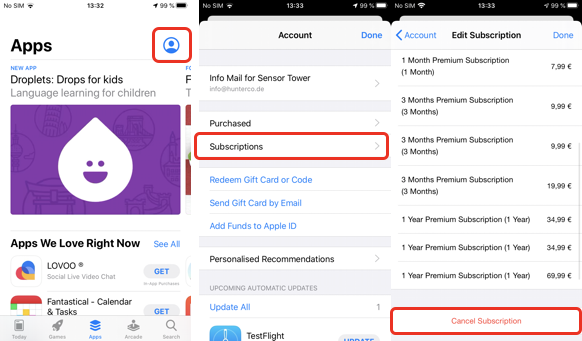 Google PlayStore:
On the PlayStore home screen, click the Menu button in the top left corner. There click on Subscriptions. In this view, click on the current hunting companion subscription. Click on Cancel Subscription in the lower part of the screen. Finally, confirm to cancel the subscription.